Pinata Cupcakes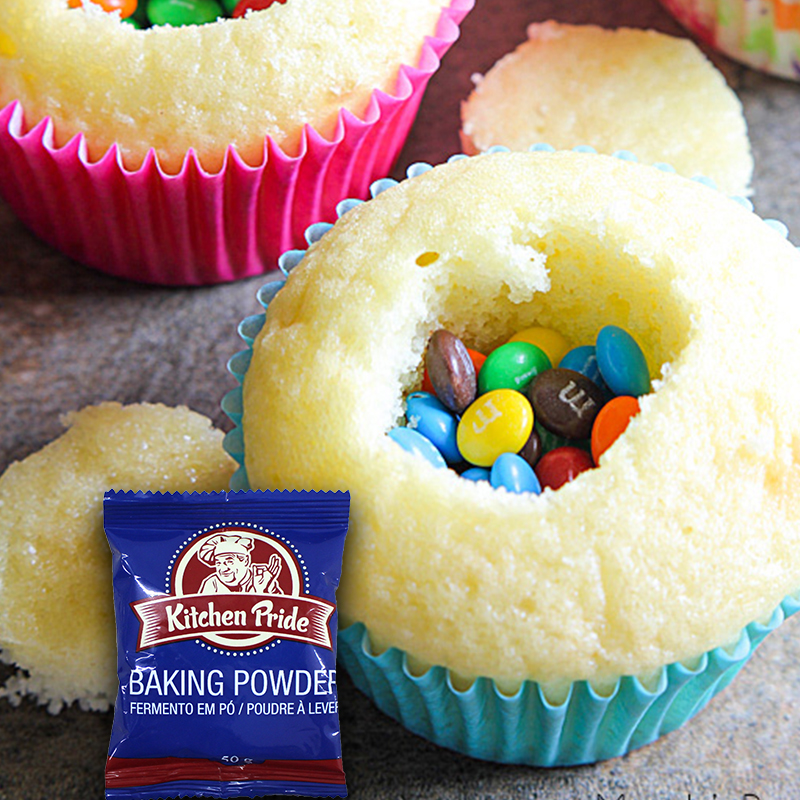 Ingredients
1/4 cup unsalted butter softened to room temperature 56g
1/4 cup canola oil 60ml
3/4 cup sugar 150g
2 eggs room temperature preferred
1 ½ teaspoon vanilla extract
1 1/2 cups all-purpose flour 188g
1 1/2 teaspoon Jianshi Baking Powder
1/4 teaspoon salt
2/3 cup buttermilk
1 batch Vanilla Frosting
Food coloring optional
Instructions
1. Preheat oven to 350F and prepare cupcake tin by lining a 12 count muffin tin with cupcake liners
2. In the bowl of a stand mixer (or in a large bowl using an electric mixer) cream together the butter, canola oil and sugar until creamy and well-combined.
3. Add eggs, one at a time, beating well after each addition.
4. Stir in vanilla extract.
5. In a separate, medium-sized bowl, whisk together flour, Jianshi Baking Powder, and salt.
6. Using a spatula and gently hand-mixing, alternate adding flour mixture and buttermilk to the butter mixture, starting and ending with flour mixture and mixing until just combined after each addition. The batter should be smooth and completely combined, but avoid over-mixing.
7. Evenly divide batter into your prepared muffin tin, filling each liner 2/3-3/4 of the way full and bake on 350F for 17 minutes.
8. When the cupcakes are finished baking, the surface should spring back to the touch and a toothpick inserted in the center should come out mostly clean with few moist crumbs.
9. Allow cupcakes to cool completely before continuing.
10. Once cupcakes have cooled completely, use a knife to cut a hole about 1" in diameter and 1" deep into the center of each cupcake. I carve a hole using the knife and gently lift out the center. Cut the bottom off of each insert and set aside the top, which will serve as the plug for your cupcakes.
11. Fill each carved hole with sprinkles, filling just below the brim of the cupcake. Top with your cupcake plug and gently press down. Top with vanilla frosting.
12. To get the colorful swirls shown in the pictures, you will need a large piping bat fitted with a large star tip and a small, clean, never used paintbrush.
Dab a small drop of food coloring on the paintbrush and then use it to draw 2-3 stripes up the side of your frosting bag.Clean and dry the paintbrush well, and then repeat with two other colors. Fill the bag with frosting, and pipe over cooled, filled cupcakes.